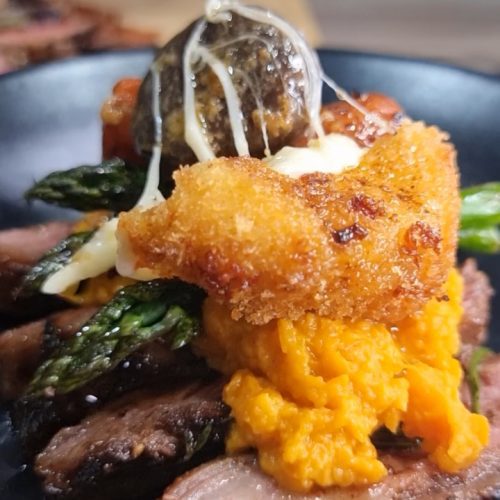 Miso Marinated Bavette Steak With Sweet Potato Mash
Miso Marinated Bavette Steak With Sweet Potato Mash, Caramelised Baby Carrots & Asparagus, Topped With Miso Buttered Shiitake Mushroom, A Mac N Cheese Croquette And Steak Jus.
Equipment
Heavy-bottom Pan

Optional
Ingredients
1

pack

Tender Stem Carrots

5

tbsp

Miso Paste

1

tbsp

Vinegar

1

tbsp

Sugar

Orange Juice

3

tbsp

Soy Sauce

2

tbsp

Ketjap manis

4

Sweet Potatoes

medium-sized

3

tbsp

Butter

1

tbsp

Cream

4

Mac and Cheese Balls

Shiitake Mushrooms

Asparagus
Instructions
Marinate Bavette Steaks in miso, vinegar, salt, pepper and sugar - mix marinate separate first in the bowl, then mix and leave for 2 hours. Cook in a pan (high heat and prewarmed) with the marination, with rosemary and garlic cloves, add lots of butter to baste, and keep doing this. Cook for 4 mins on each side, however, this depends on the size of your steak. Leave to rest before you slice thinly. For me one steak can feed 2 people. 

Soak Carrots in couple of tablespoons orange juice for an hour, then cook and reduce in pan, then add soy sauce, Ketjap manis, salt pepper and cook till carrots are tender. Once tender cook in oven till crispy and sticky outside with a glaze. 

1 tbsp Vinegar,

2 tbsp Ketjap manis,

3 tbsp Butter,

Shiitake Mushrooms,

1 tbsp Sugar

Boil Sweet potatoes and then mash using a masher, add back to pan on low heat and mix till water has evaporated. Add a large tbsp of butter, drizzle of cream and season. Mix till its creamy.

Add Asparagus to a pan with butter and salt. Sauté for a couple of mins till tender. 

4 Sweet Potatoes,

1 tbsp Cream,

4 Mac and Cheese Balls,

5 tbsp Miso Paste

Add Shiitake Mushrooms to a pan with butter and 2 heaped tbsps miso paste and cook till tender and then season. Remember don't overcook the mushrooms.

2 Bavette Steaks,

1 pack Tender Stem Carrots

Use my original mac and cheese recipe (or ready made), once cool shape them into balls. Dip in egg and breadcrumbs and freeze. On the day just fry them. 

On each individual plate add slices of steak first, then some sweet mash, some asparagus, carrots, mushroom and then mac and cheese ball, then on top drizzle the jus from the steak.