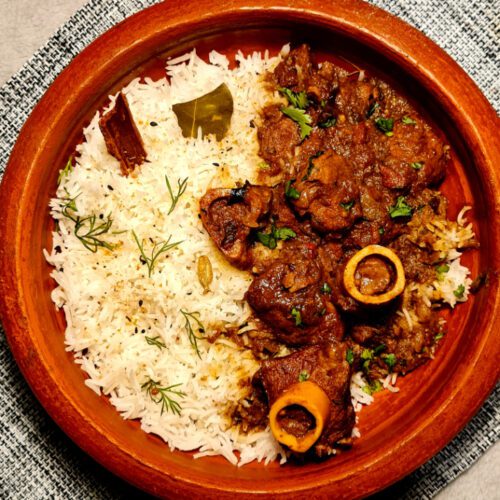 AM1NAH Liquid-Gold Laal Maas
Laal Maas is a very popular red meat dish in Rajasthan. It is a fiery meat curry which is made withthe combination of Kashmiri red chillies and other popular spices of Rajasthan.It is cooked in various ways, however, the authentic one is made with MathaniaRed Chillies which are often not easy to source so here we have substitutedthem for Red Bird's Eye Chillies.
Equipment
Heavy-bottom Pan

Optional
Ingredients
1.5

kg

Lamb leg

Cubes bone-in

2 x 500

ml

Lamb bone broth

30

ml

Lamb tallow

1

Cup

Greek yoghurt

3/4

tsp

Crushed fresh turmeric root

10-15

Red finger chillies

2

Organic brown onions

100

g

Garlic paste

50

g

Crushed garlic cloves

100

g

Ginger paste

25

g

Crushed ginger

200

g

Tomato puree

2

Bay leaves

4

Black cardamom seeds

5

Green cardamom seeds

2

Cinnamon sticks

6

Black cloves

1

Cup

Filtered water

Himalayan pink salt

to taste

Coriander leaves

to garnish
Instructions
In a blender, mix the cardamom, cinnamon, cloves and half of the red chillies – set aside. Also slice some red chillies in half and keep aside.

4 Black cardamom seeds,

5 Green cardamom seeds,

2 Cinnamon sticks,

6 Black cloves,

10-15 Red finger chillies

Marinate the meat using the spice blend above (save 1tsp), yoghurt, ginger and garlic pastes, bay leaves and turmeric root. Mix well and set aside to marinate in the refrigerator for an hour.

1 Cup Greek yoghurt,

100 g Garlic paste,

100 g Ginger paste,

2 Bay leaves,

3/4 tsp Crushed fresh turmeric root

In a heavy bottom pan, heat the tallow and add the onions. Sauté until golden brown in colour.

Add tomato puree, crushed ginger, garlic and water. Sauté until the tallow begins to separate.

50 g Crushed garlic cloves,

25 g Crushed ginger,

200 g Tomato puree,

30 ml Lamb tallow

Add the meat and sauté on high heat for 3 minutes. Pour in the bone broth. Stir.

1.5 kg Lamb leg,

2 x 500 ml Lamb bone broth

Cover the pan with a lid and let it slow-cook until the meat is tender. For a thick red fiery flavoured gravy, reduce by 50%.

Garnish with the saved spice blend (1tsp) and coriander leaves. Serve piping hot.
Notes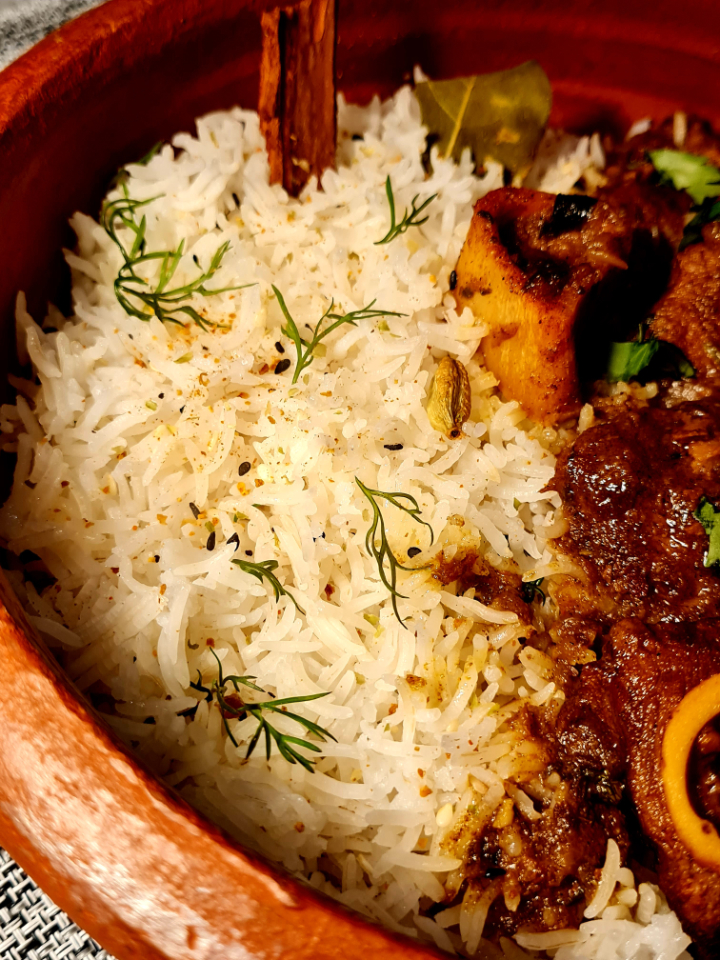 Pictured here, we have served Laal Maas with organic dill-infused long-grain basmati rice cooked in bone broth, a pinch of pink salt, green cardamom and a bay leaf sprinkled with sesame seeds and our secret spice blend.
Nutrition