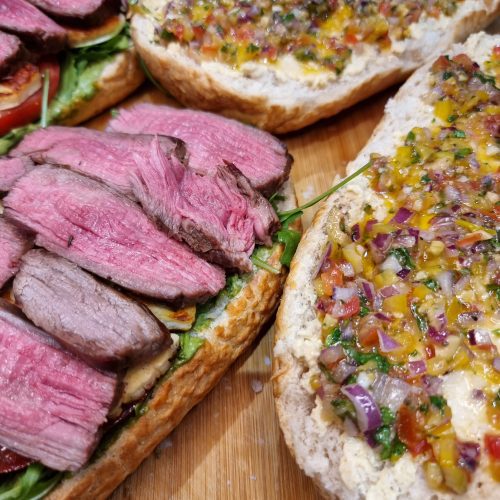 The One With The Bavette Steak & Salsa
As you know me, I'm always trying to create the best steak sandwich. This wasn't far from it! It has a layer of homemade pesto (with crème fraîche), wild rocket, beef tomatoes (in a dressing of pomegranate molasses), pan-fried halloumi cheese, steak, houmous and my homemade salsa. Steak was from @hillfarmfinest as always... the quality of these steaks are amazing. They never fail me.
Equipment
Heavy-bottom Pan

Optional
Ingredients
Pesto
1

packet

Spinach

1/4

cup

Pine Nuts

1/2

packet

Wild Rocket

2

tbsp

Crème Fraîche

heaped

1

clove

Garlic

5

tbsp

Olive Oil
Steak
2

Bavette Steaks

2

Beef Tomatoes

3

tbsp

Olive Oil

3

sprigs

Rosemary

1

tbsp

Butter

2

tbsp

Pomegranate Molasses

2

block

Halloumi

1/2

packet

Wild Rocket
Salsa
2

Red Onions

1

Yellow Pepper

1

clove

Garlic

2

Salad Tomatoes

1/2

cup

Green Olives

1

tbsp

Olive Oil

Squeeze Lemon Juice
Instructions
Add all of the Pesto ingredients into a blender and blend until preferred consistency. Set aside for assembly.

Cut Beef Tomatoes into thin slices and marinate in Pomegranate Molasses and 1 tbsp Olive Oil. 

Cut Halloumi into thin slices and pan-fry till golden using a tiny amount of oil. 

Prepare Salsa with Red Onion, Yellow Pepper, Garlic, Tomatoes and Green Olives - all chopped up finely, as small as possible. Dress the salad with Olive Oil, Salt and Lemon Juice - leave aside.

Marinate Bavette Steaks in 2 tbsp Oil, Rosemary Leaves and cook on high heat for 4 mins on each side with a clove of Garlic in the pan. This highly depends on the size of your steak and thickness. Make sure the pan is nice and hot before adding your steak. Add Butter to baste the steak, towards the end of cooking. Season once you take the steak out to rest. It's crucial you let it rest. Then cut into thin slices - ready to assemble. This must be the last step, otherwise your steak will get cold. 

Assemble your plate with a base of Bread, Pesto, Wild Rocket, Beef Tomatoes, Halloumi then steak slices. Top off the soft warm bread with creamy houmous, and then add a spread of salsa. Put that on top to close the sandwich.

Cut it into slices and serve.